Model Data Princess Blueyez
Content Table

| | |
| --- | --- |
| Updates | 1 |
| Photos | 522 |
| Outtakes | 34 |
| Animated Fun | 214 |
| Videos | 5 |
Bio Table

| | |
| --- | --- |
| Country | U.S. |
| DOB | Aug. 17 |
| Age | 18 |
| Height | 5'5" |
| Weight | 128 lbs. |
| Bust | 32-C |
| Shoes | 7.5 |
Almost Nude Teen
Princess Blueyez
---
---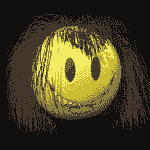 Looking down at Princess Blueyez on the floor, as she rubs lotion all over that almost nude teen body of hers is an amazing experience. Especially, since her natually big boobs are 96% exposed, minus the blue eye matching tape that covers her nipples. Princess Blueyez has never before been seen this way... ever!
In the main video, Cass get's into compromising positions, she is rubing and touching herself in places never seen before, and the expressions on her face are as close to having sex with her that you will ever get!
A highlight of this remastered release would be the 214 Animated Gifs that I created. Being able to take one of those compromising moments or positions from the video, and turn it into a repeating and never ending "sexual act" was an amazing experience for me. After all of those years... now I could finally see, how it would appear to be, if the blue eyed Cass were to masturbate for me, or get fucked doggie style, or ride on top of a cock, etc.
This set took a long time to shoot and on several occaasions, I could tell that Cass seemed a bit confused. Like she started to feel shame, boyfriend and or parent guilt, or simply just upset because she was turned on and wanted to go further. Here is my breakdown...
20% - parent shame
55% - boyfriend guilt
23% - wanted to go further with her performance
02% - wanted p-f's package deep into her guts
That two percent is substantiated by the multiple package checks I caught her doing throughout the set. :-)
I hope you enjoy this set as much as I did and still do.
Animated Fun Showcase Almost Nude Teen
Animated Fun Disclaimer: Please be advised that the animations I created here are for fun. They may or may not depict actual events. They are strictly for fun and fantasy.